Lets Make California Roll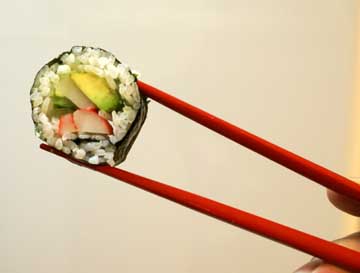 California Roll may have been named for its origin in Los Angeles California where sushi chefs from Japan have migrated. It was here that sushi chef Ichiro Mashita used avocado as a substitute for oh-toro tuna while working as a chef at the Tokyo Kaikan restaurant.
Now its so wide spread that I notice on some menus and books its referred to as crab, avocado, cucumber roll. In the 80's radish sprouts were used before cucumber was introduced.
---
Make the rice, and make sure you have all the necessary items needed to make maki zushi or rolls. With most sushi its a matter of preparing the ingredients then putting the parts together.
California Roll Ingredients
2 Cups prepared sushi rice
1 Package of nori seaweed
1 Cucumber
1/4 Package of crab stick or imitation crab 1 Avocado
1 Table spoon of rice vinegar

---
Prepare Cucumber
In the California roll it used to be radish sprouts in stead of cucumber.
Cut the cucumber ends off. Then cut in half so you have 2 small cylindrical cucumber halves. Cut these long ways into 4 long strips so you can cut out the seeded part. Don't cut it short ways into small disks.
Cut everything long as pictured. Leave the skin on and cut into julian strips. This is done by cutting the halves length wise into short strips (see photo) Discard the seeded portion. Or use it in a salad.
Prepare Avocado
Cut a ripe (dark skinned, heavy, firm but soft when lightly squeezed) avocado in half (1/2") inch (1.27cm) lengths. Start by cutting the avocado laterally in half. Or, the long way in half.
Remove the pit or seed. If its ripe the skin should peel off easily. Cut roughly in strips of quarter inch (1/4" or 6mm) to about half inch (1/2"=1.27cm).
Prepare Imitation Crab
If you're using imitation crab sticks peel off wrapper and fit the size so that it will fit into the length of the roll.
If you're using flaked imitation crab break up the flakes by hand to roughly the same shape as the strips of cucumber and avocado. Same preparation applies if you choose to use fresh, or real crab.
This is the recipe. The guide for assembling medium rolls will explain how to assemble this roll.
Show Off Your Masterpiece!
Show off your creativity and style! Simply snap a picture or tell us how yours turned out. Your contribution (after review) may be added to this page.


Best sushi creation photo of the month will be placed on the cover or home page of Lets Make Sushi.com! Good Luck
Return from California Roll to Sushi Roll Page
Return to Home Page