Chirashi Zushi (scattered sushi)
Chirashi zushi is basically sushi in a bowl. A variety of ingredients are on top of sushi rice in a bowl.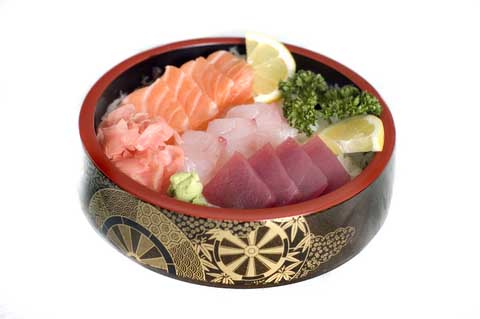 Lets make it
First make the seasoned rice. While that is cooking, start preparing the ingredients. This type of sushi in a bowl consists of a variety of ingredients such as: slice tuna, salmon, omelette, salad shrimp, and cucumbers.
In Japan they are classified into different styles such as Edomae, Tokyo Style which are the 2 main styles. Then there is the Kansai Style which utilizes cooked ingredients.
Fill the bottom of the bowl with the seasoned sushi rice and leave room at the top for the sushi ingredients. Artistically arrange the toppings. Organize them into what may resemble a flower arrangement.
Sometimes its nice to make it with mostly your favorite sushi flavor on top of the rice. Example, if your favorite is the blue fin tuna (maguro) then use mostly that for your bowl along with cucumber, chopped omelet bits, herring roe (masago), etc. Garnish with parsley and lemon slices (above picture).
Show Off Your Masterpiece!
Show off your creativity and style! Simply snap a picture or tell us how yours turned out. Your contribution (after review) may be added to this page.


Best sushi creation photo of the month will be placed on the cover or home page of Lets Make Sushi.com! Good Luck
Return from Chirashi Zushi to Home Page