What's Your Favorite Sushi Recipe?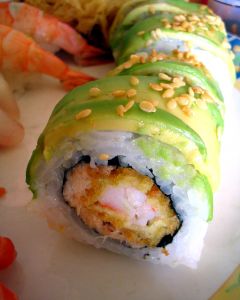 What is your all-time favorite sushi recipe?

Share your story, tip or review about a sushi recipe you absolutely love!

Then tell why it is your favorite.
example: "I love the tuna avocado hosomaki. Because avocado is considered the other chu-toro combined with the blue-fin chu toro. Oh so soft and heavenly!"
What Is Your Favorite Sushi? And Why?
Tell us your out-of-body sushi experience! Favorite sushi recipe or flavor.
Your Favorite Sushi or Sushi Recipe
Click below to find out which sushi people love most. Get ideas for what sushi to make.
Tuna Aburi Nigiri in Tokyo Japan
Was introduced to this nigiri sushi when we were in Tsukiji Japan. Next to the fish markets. Forgot the name of the restaurant but there was a bill board …