Lets Make Cucumber Roll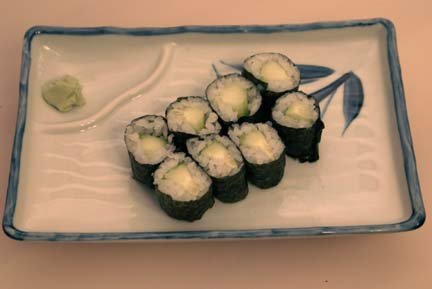 Your cucumber roll can be made along with other rolls. Start by making the rice, and make sure you have all the necessary items needed to make maki zushi or rolls. This roll, like most sushi, is a matter of preparing the ingredients then putting the parts together.
---
Ingredients
2 Cups prepared sushi rice
2 Sheets of nori seaweed
1 Japanese Cucumber or a small regular Cucumber
1 Table spoon Wasabi
yields 32 pieces
---
Skin the cucumber. Skin it coarse meaning its okay to leave spots of green skin.
Cut the cucumber ends off to match the size of the sheet of seaweed (long side). Then cut the cucumber into long strips about a half inch by half inch (1.27cm). Cut it laterally along the length of the cucumber or end to end. Or use 2 short pieces to equal one length. Remember, keep the length the same as the sheet of seaweed (after seaweed has been cut in half).
Follow the hosomaki instruction page for rolling instructions. Enjoy this roll dipped in a little shoyu (soy sauce).


Show Off Your Masterpiece!
Show off your creativity and style! Simply snap a picture or tell us how yours turned out. Your contribution (after review) may be added to this page.


Best sushi creation photo of the month will be placed on the cover or home page of Lets Make Sushi.com! Good Luck
Return from Cucumber Roll to Sushi Rolls page