Nigiri Sushi Recipe With Maguro (tuna)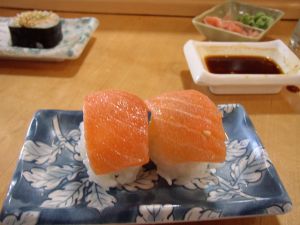 Step by Step Nigiri Sushi with Akami Maguro (tuna)
Maguro Sushi
Ingredients for 10 individual pieces:
5-7 Ounces of fresh tuna. Blue fin or its substitute.
1 Cup (about 8 oz.) Sushi seasoned cooked rice. Use the rest for rolls and other sushi.
1 teaspoon of wasabi for making the sushi and dipping with soy sauce.
Your culinary artwork too good to consume? Snap a picture and submit it here. Your sushi photo might make the front home page of Lets Make Sushi.com. See what other people have created.
What You'll Need
What you will need to make nigiri zushi is a sharp knife, cutting board, and plates. Thats the easy stuff. The difficult items are the ingredients. Sushi grade fresh fish, sushi rice and wasabi are all you need to get started.
Preparation
Before you start, make sure you mixed tezu in a medium sized bowl for your hands. Its so that the rice will not stick to your hands. Tezu is cold water in a hand fitting bowl with rice vinegar sprinkled into it (about 2 table spoons of rice vinegar per 1 cup of water)
Rice (sushi gohan)
Have your sushi rice cooking or prepared in advance.
Wasabi
Prepare wasabi in a small dish. If you have the powder form follow directions on the label. Add COLD water to make into dough ball like thickness.
Table Ware
Have plates out so there is somewhere to place and serve the sushi.
Prepare Fish
Prepare the fish by removing the package. Drain juice if any and pat dry with a paper towel. Inspect the fish for bones. If its "sushi grade" There shouldn't be any but it always good to make sure.
Cut maguro with slices about 1-1/2" wide by 2-1/2" to 3" long. About 1/8 to 1/4" thick.
(3.18cm wide by 6.35cm to 7.62cm long. About 3.30mm to 6.35mm thick)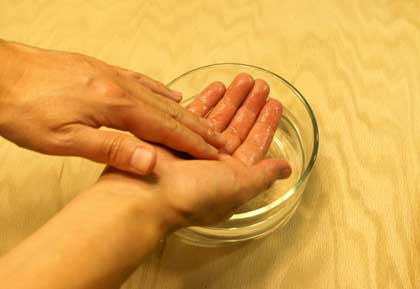 Wet both hands with tezu mixture so rice won't stick to hands. Use before making each nigiri.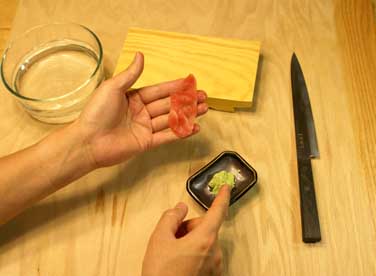 Take a slice of tuna in the left hand (if right handed). Right hand index finger takes a bit of wasabi on the finger tip.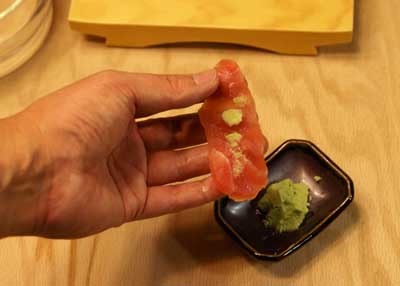 Smear wasabi onto the slice about like this (pictured).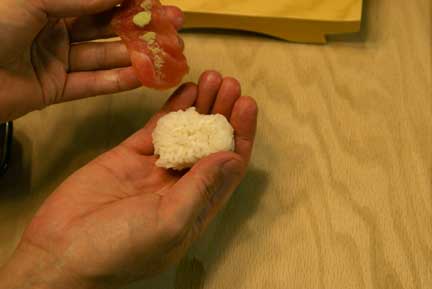 Take an oval of rice in the right hand from the sushi rice tub and place it onto the tuna slice.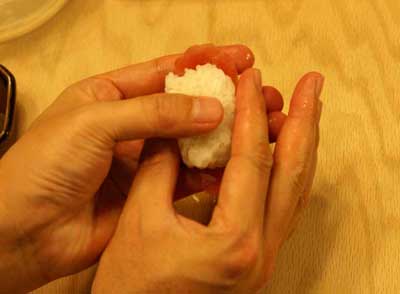 With the left thumb placed in the center of the rice oval, carefully turn over the sushi so the rice is now down and the tuna is up.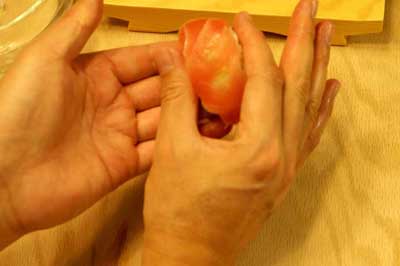 With the right hand thumb and index finger, form the rice oval sides.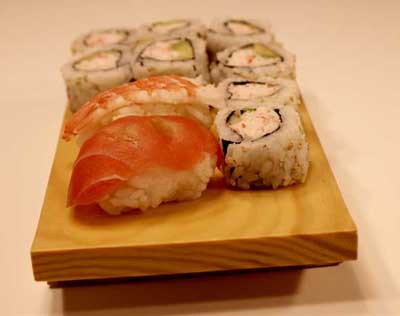 Place the tuna sushi onto a small plate. Make another and place it next to it. This is the nigiri presentation. Typically served in pairs with rolls to mix it up.
Enjoy!
---
Remember: consuming raw or undercooked meats, poultry, pork, seafood, shellfish, or eggs containing harmful bacteria may increase your risk of food borne illness.
Pregnant women, and people with immune conditions should not eat raw or partially cooked seafood.


Show Off Your Masterpiece!
Show off your creativity and style! Simply snap a picture or tell us how yours turned out. Your contribution (after review) may be added to this page.


Best sushi creation photo of the month will be placed on the cover or home page of Lets Make Sushi.com! Good Luck
What Other Visitors Have Said
Click below to see reviews from other visitors to this page...
Love this stuff
We made this for a youth group. Sure is easy to make. We served Miso soup and pork chops with the sushi fish. Will have pictures soon.
Return from Maguro to Nigiri Zushi Page
Return to Home Page