Soy Sauce Dish (shoyu sashi)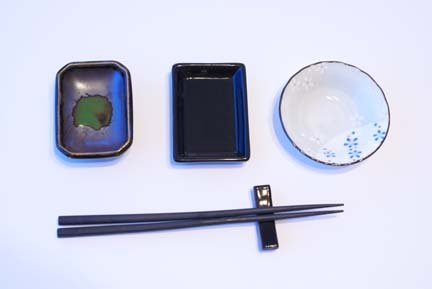 You will need a place to dip soy sauce other than a plate or bowl. A soy sauce dish. Regular sized bowls are too large for the small amount of soy sauce used for dipping sushi. Small tea saucers may do the job but still allows the sauce to run all over the plate.
What you will need is a tiny bowl for dipping sauce. A dipping sauce dish (shoyu sashi) is a small bowl typically about 3" (7.5cm) by around 4" (10cm). They come in different shapes, and color ceramic. A great enhancement item for your sushi experience at home.
Sushi supplies substitute: A saucer or a small dish with deep sides. Or a very small bowl with shallow sides.
Return from Soy Sauce Dish to Sushi Supplies Page
Back to Home Page