Unagi Sushi Recipe (fresh water eel)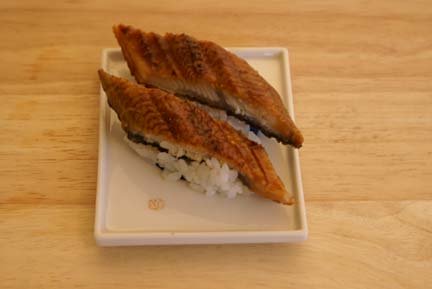 ---
First a Little About Unagi
If you are interested in making unagi sushi (correct term is unagi zushi) you may be familiar with this great tasting classic. If you are not you maybe reading this daring to try something with the word "eel" associated with it. Don't let this fool you into thinking of images of fierce looking creatures such as the Moray or Electric eel.
This species is a very docile small eel that inhabits the rivers of Japan, Korea, the East China Sea and the northern Philippines. They start their lives in the sea and then migrate into the rivers and become adults.
Once you try it, like I have, you'll love the delicate, tender white meat. This has become my very favorite sushi flavor.
Is it the same as Anago or Conger eels? Don't get unagi confused with anago. Anago is another type of eel that lives in the ocean. Its a larger eel (up to 6 feet or 1828.80 mm) and has a different taste than fresh water eel.
The meat topping comes ready to heat and serve in a vacuum pack with Teriyaki sauce. It's found in the meat section of a japanese or asian store.
---
Ingredients to make Unagi sushi nigiri:

Makes about 10-12 individual pieces:

1 Package frozen precooked broiled eel.
1 sheet of nori seaweed cut into 1/2 inch (12.7 mm) by about 4 inch (101.6 mm) strips.
3 Cups (about 24 oz.) Sushi seasoned cooked rice. Use the rest for rolls and other sushi.
1 teaspoon of wasabi for making the sushi and dipping with soy sauce.
---
Your culinary artwork too good to consume? Snap a picture and submit it here. Your sushi photo might make the front home page of Lets Make Sushi.com. See what other people have created.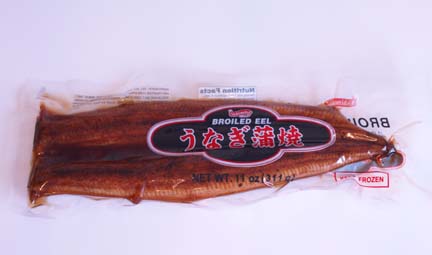 Take the package into the refrigerator and let it thaw over night and part of the next day if you plan on unagi sushi for dinner the next day.
Follow the warming or cooking instruction on the package. Once warmed let it stand for about 10-15 minutes to cool.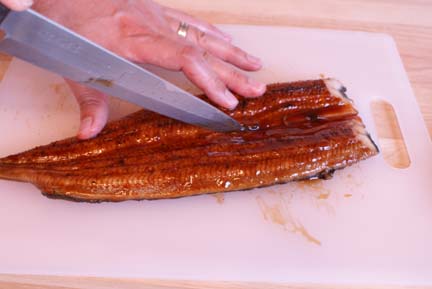 Next, there should be, with most brands, two raised sections where the meat is the thickest part. Or two lumps of where the meat is the thickest.
Separate the two by running a knife down the middle of the two lumps. This is a cut down the long section in the middle (see picture above).
If there are not two thick section as described, then skip this part and proceed to the next step.

Now, if you followed the above procedure, you should have 2 halves. Take each one and slice them into nigiri toppings. I use an angled style cut as shown here in the photo.

Now make slices with the other half. This is how to prepare the topping for sushi. This is now ready to be placed as a topping for nigiri.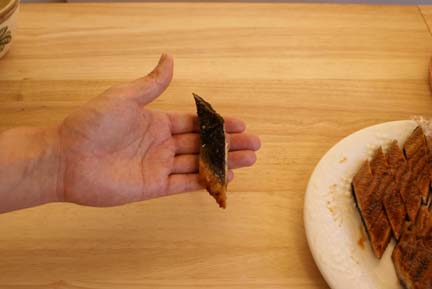 Take a slice in hand skin side up which is upside-down.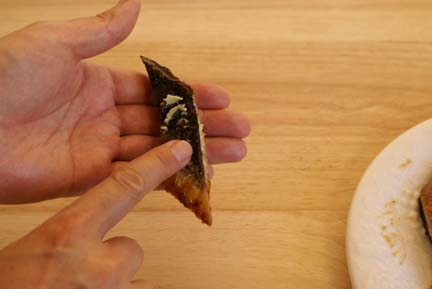 Take a smudge of wasabi and smear on.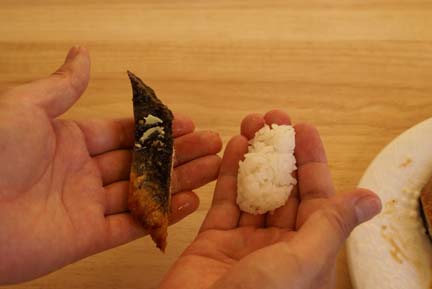 Take a ball of sushi rice about 20 grams or 2/3 Ounce (two finger wide, slightly over tip to knuckle long, one and a half fingers thick)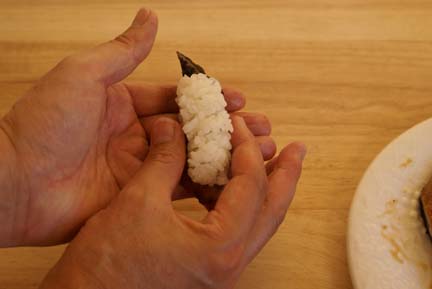 place the rice onto the topping slice.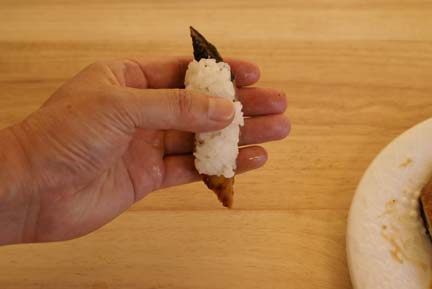 Hold the rice in place so you can turn it over as one piece.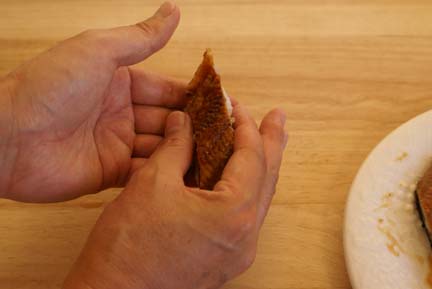 Turn it over and shape the rice so that it aligns with the sides of topping.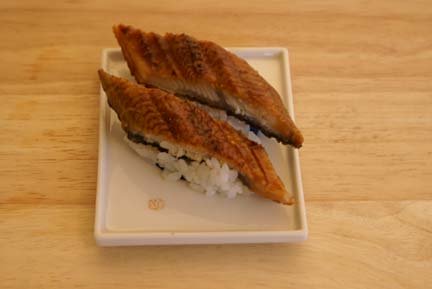 That's it. Place it on your small serving dish and make another to serve as a pair. This is how they serve it in japan.
Remember, this is a cooked topping sushi and is a must eat for those who love healthy sushi.


Show Off Your Masterpiece!
Show off your creativity and style! Simply snap a picture or tell us how yours turned out. Your contribution (after review) may be added to this page.


Best sushi creation photo of the month will be placed on the cover or home page of Lets Make Sushi.com! Good Luck